Orpheum Theatre Information
Orpheum Theatre History
The Orpheum Theatre started life as the Hennepin Theater in the early 1920's. Since then it has been a famous hotspot of cultural entertainment for all in Minneapolis. The theatre has had a rich history.
The theatre originally opened as a vaudeville theatre; vaudeville being an early type of theatrical comedy with European influence. After a decade of much success hosting this genre, the demand for vaudeville theatre declined and the Orpheum Theatre transitioned into a cinema house.
In 1959 a new owner, Ted Mann purchased the theatre and started to transform it into the theatre you know today. Huge touring productions were introduced to the theatre, such as My Fair Lady and Fiddler on the Roof. Productions that still to this day continue to be shown across the country.
In 1988 none other than Bob Dylan and his brother David Zimmerman purchased the theatre. Under their instruction, in 1993 the building underwent a big renovation to expand the stage and improve guest facilities along with making the theatre handicap accessible.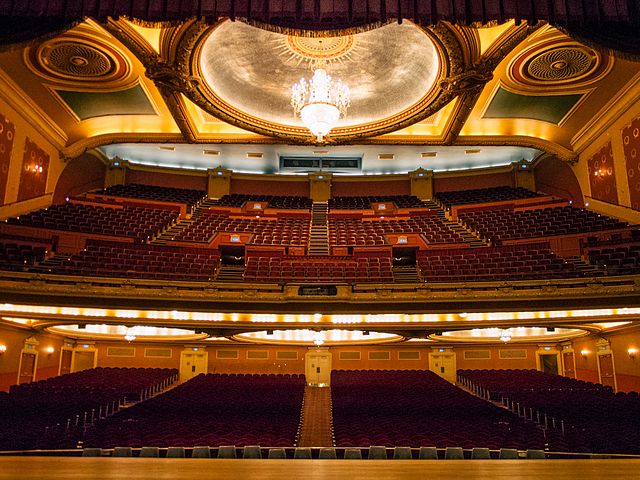 Hennepin Theatre Trust
The Orpheum Theatre is situated on Hennepin Avenue in Minneapolis. It is one of four theatres on this well known downtown entertainment district that is owned by the Hennepin Theatre Trust.
The Hennepin Theatre Trust is a non-profit setup in 2000 and has been critical in maintaining the Hennepin Avenue theatres and bringing you the iconic shows and entertainment loved by Minneapolis.
This website is not affiliated with the Hennepin Theatre Trust. If you wish to find out more on this cultural organisation you can visit their website here: hennepintheatretrust.org
Broadway Musicals
To date the Orpheum Theatre has been the home of Broadway musicals in Minneapolis. With touring his productions shown throughout the year.
Starting with My Fair Lady in the 1960's, the theatre has been a constant source of hit musical productions. Products such as; Hamilton, Frozen, Come from Away, Anastasia, The Bands Visit, The Book of Mormon, Phantom of the Opera and much, much more.
Check out the upcoming events page to see what exciting new Broadway musicals will be coming to the Orpheums stage.