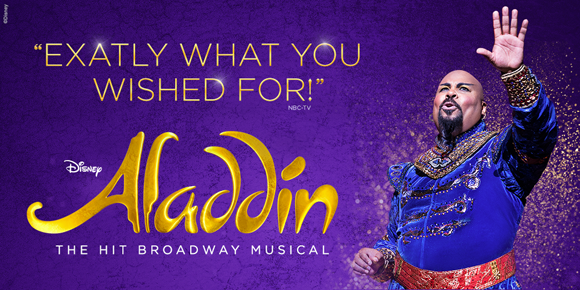 Are you ready to see one of your all-time favorite Disney films spring to life? Get ready for Aladdin – the magical musical theatre comedy that will leave you WISHING for more!
Aladdin Broadway Tickets:
Bringing such a visual film – featuring remote and dangerous locations and fast-paced action sequences, not to mention MAGIC! – to the stage is no mean feat, but the directors of Aladdin have done so magnificently. The production features jaw-droppingly complex and beautiful sets, over 350 costumes, fantastic live musicians and of course, a truly incredible cast. With music by Alan Menken and lyrics by Howard Ashman, Tim Rice and Chad Beguelin, Aladdin featured songs originally intended for use for the film, but never used, along with a host of brand new numbers – expect the new and the familiar alike! First hitting Broadway in 2014 after premiering in Seattle, it was enthusiastically received by the public and critics alike, and received five nominations for Tony awards. Writing for the Associated Press, Mark Kennedy wrote; "It's spritely … well sung … and hits that sweet spot Disney Theatrical Productions do so well, a saccharine fairy tale for the kids cut by some sly, vinegary quips for their parents."
"Impressive stage magic, a gold-dripping design and a party-loving genie make this energetic adaptation of the animated movie a wicked treat"

– The Guardian
A fairy tale to thrill children and adults alike on a trip of nostalgia and discovery, presenting the new and old together with a gloriously colourful, crazy and hilarious finish, Aladdin will bring your favourite characters to life before your very eyes. So don't delay – book early to ensure you get your seats!!