Orpheum Theatre Minneapolis | Minneapolis, Minnesota
"An explosion of color and sound," The Charlotte Observer hails, as Shen Yun Performing Arts serve non-stop cultural marvels of pre-communist China dating back to over 5,000 years. With a mission of sharing long-lost heritage through a spectacle featuring ethnic and traditional dances, bel canto solos, and a one-of-a-kind orchestra, Shen Yun Performing Arts lives up to its purpose with world-class productions raved by critics and audiences worldwide. Catch the highly-acclaimed spectacle filled with unseen cultural marvels live at Orpheum Theatre Minneapolis on Sunday, February 26th, 2023 by booking your tickets now!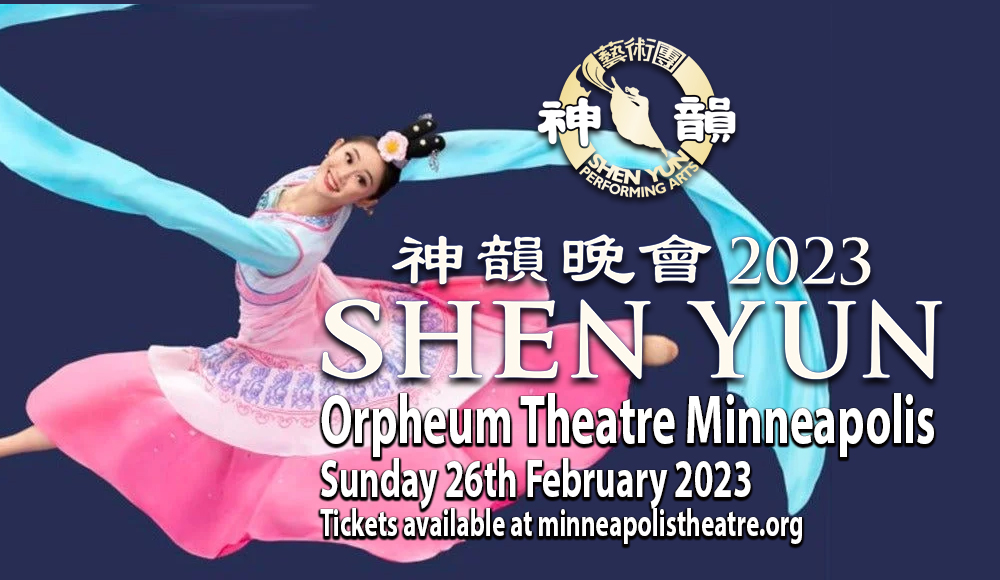 Shen Yun means "divine beings dancing". Having performed in venues all over the world, Shen Yun Performing Arts' productions have been highly acclaimed for their divine portrayals of long-lost Chinese culture through traditional dances and breathtaking music that you wouldn't often see anywhere else. With a mission of reviving five thousand years worth of lost culture in pre-communist China, Shen Yun is dedicated to serving powerful performances and powerful stories, brought to life by a world-class cast at every show.
"Throughout history, almost every culture looked toward the divine for inspiration," Shen Yun's website shares. "Art was meant to uplift, bringing joy to both the people who created and experienced it. It is this principle that drives Shen Yun performers and their art."
Through ethnic and folk dances, bel canto solos, traditional music, stunning costumes, alluring backdrops, and a captivating orchestra, Shen Yun Performing Arts isn't just another well-budgeted production. Its core is in its mission and powerful messages at every show. Audiences are taken back to thousands of years worth of lost traditions and stories from the pre-communist era. Showing a different face to China to the world, Shen Yun is more than just a theatrical show – they're a movement.
"It's wonderful, … the tales, the history—the 5,000 years of history in China. And then … we started seeing some of the terrible things that are happening in China under the Communist Party; I think the American people need to see this, the world needs to see this" shared WASHINGTON, D.C.—Rep. Brian Babin.
Based in New York, Shen Yun maintains its world-class talent driven by the same mission and heart for delivering an exquisite performance where audiences leave the venue with a changed perspective.
"Incredibly inspiring… incredibly striking… incredibly thought-provoking and beautifully presented," expressed Catherine Lorenze in a review of the show.
More than the shining lights and incredible props, Shen Yun Performing Arts' selling point is its story – heartwarming tales and journeys that leave audiences with new lessons, discoveries, and life-changing realizations. Don't miss out on a spectacle that takes you back into an unfamiliar time and culture like no other at Shen Yun Performing Arts live at Orpheum Theatre Minneapolis by booking your tickets now!