Orpheum Theatre in Minneapolis
Marina (fka Marina and the Diamonds) comes to Orpheum Theatre Minneapolis on Tuesday 24th September 2019! Celebrating the launch of her hot new double album, Love + Fear, the Welsh singer will be performing new material from the record, which covers a vast array of topics from insecurity and inequality to a "longing to enjoy life". The alt-pop performer has a magnetic stage presence and delivers an energetic and captivating performance with every show – an absolute must-see!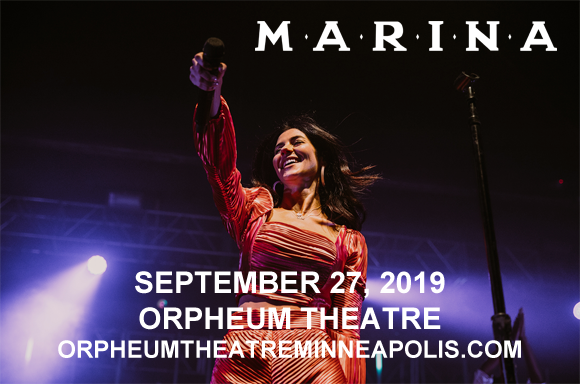 Marina is the stage name of Welsh singer-songwriter Marina Diamandis, previously known as Marina and the Diamonds. Marina first came to public attention in 2010 with the release of her debut album The Family Jewels, which debut at number five on the UK Albums Chart. Its follow-up, 2012's Electra Heart, which is a concept album about a character of the same name, debuted at number one on the UK Albums Chart and reached number two on the Billboard Top Dance/Electronic Albums Chart. The album featured a change in musical direcion for Marina, from the indie pop and new wave of her first album to a more electropop sound. Her third album, Froot (2015), is influenced by synth-pop and is the first of her albums to hit the top ten on the Billboard 200, peaking at number five. Her fourth studio album, Love + Fear, is scheduled for a 2019 release.